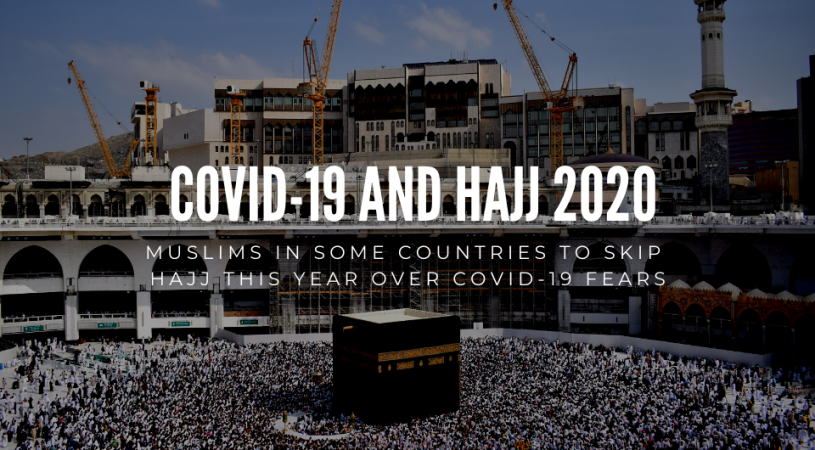 Hajj 2020 Trip is Cancelled: Updates from EZ Hajj Groups, Hajj Ministry and More
GemPages Collaborator

بسم الله
Date:
1/11/1441
23/06/2020
Assalamu Alaikum,
EZ Hajj Groups would like to provide you with our decision on this year's, 2020 Hajj Season and what that means for your reservations with us.  As all of you are well aware of, COVID-19 Pandemic has caused a big shift in the way we live our lives, recently and of course on how we Muslims, perform one of five pillars of our faith, the Hajj Pilgrimage.
The broader aspects out of this pandemic are obviously the effect on the economy and how we conduct commerce, yet more importantly how we interact with our loved ones, strangers, colleagues, and practicing our faith. It's important to understand the implications and how each country's government, has implemented safety standards for their people and travelers to their country, alike. Moreover, we wanted to ensure the proper information, guidelines and standards for all Hajjis who were willing to perform Hajj, regardless of the pandemic and for those who would like to wait for a safer year. For this reason, we took a companywide affirmative action on the matter which is discussed in greater detail below.
EZ Hajj Groups, elected to take a discretionary stance on the matter of Hajj until more information was provided to the licensed Hajj Agents from the Hajj Ministry and The Kingdom of Saudi Arabia's government concerning Hajj, and if it will continue as planned or not. Also, providing procedures and guidelines for dealing will all businesses effected during Hajj. As you may or may not know, Hajj is a multi-billion dollar industry for the KSA economy and we are well aware that any government-mandated intervention and/or refunds for all Hajji's, would be in the best interest of our clients and our company, this is the reason for our "wait and see" approach.
As of June 22, 2020, the kingdom's Hajj ministry said the ritual of Hajj, would be open only to individuals of various nationalities residing in Saudi Arabia. Therefore, our Hajj trip this year has been canceled.
What This Means for You?:
Due to the action, the Hajj Ministry has taken, your reservations will be canceled.
We have already started negotiations with airline carriers and secured ticket refunds from most airlines. We are currently working on non-refundable tickets, which were made on special requests and secondary travel destinations. Due, to the cancelation of Hajj from the Hajj Ministry, these non-refundable tickets, should be easier to get full refunds on.
Hotels and other logistic matters are being handled as well, by the president of the company Mr.Zakaria Bakkar, who is currently in KSA.
As you most are aware. We reserve your tickets, right when you make a deposit. Therefore, we must first have this money returned to us from the airlines so we can refund it back to you. This goes with the hotels, we offer in our packages as well. Due, to the nature of our business we must reserve these rooms 6-8 months in advance of Hajj and pay large deposits to secure them. Mr.Zakaria Bakkar is working on a refund from these hotels, currently.
Time Frames and Refunds:
Refunds will be processed on a case by case basis. We will send back refunds via check in a certified mail envelope. We understand some of you made your deposit via Zelle, Bank Transfer, and wires. Yet, we will be only refunding via checks. We apologize for any inconvenience this may cause.
Inshallah, you all understand the difficulty of this situation and how we operate our small family-run, agency. We do not operate with any credit and/or usury loans that are against Islamic law as well as ensure we operate with America's Law of Commerce and Trade and standard business practice. This is the reasoning on why we must wait for all deposits to be refunded from all parties to begin reimbursements and ensure everyone is refunded in a prompt and orderly manner.
Moreover, as stated above we have already negotiated secured refunds from International Carriers and working on the more difficult issue of domestic/state-run carriers(Saudi Airlines, Pakistan Airlines, Emirates Airlines, Flynas, and Etihad Airway) for refunds. This applies to Hotels and other services in KSA that follow a different code of conduct and law proceedings then Multinational companies.
Thus, we ask for your continued patience in the matter, as you all have given us much already. We will be contacting each of you individually, regarding your refunds and what the airline carrier and hotel have refunded us.
Again, we will email you or contact you via telephone to inform you of the proceeding of your case and refunds that were secured fully with correlating documentation from all parties, involved in the Hajj supply chain upon request.
Information We Need From Clients:
Confirm the address; you would like the refund check to be sent too. All refunds will be processed through your initial reservation and we will begin from ascending order, by your date of reservation.
In closing, we truly, appreciate your trust in our firm to serve you. We, take high pride in our transparency and our dedication to the Islamic Communities across America and to be leaders in commerce, for not only the Islamic portion of society but all of society. May Allah has mercy on us all, and from EZ Hajj Groups to you, we truly appreciate your patience and Dua, as we all deal with these difficult times. We will be in touch with you shortly on an individual basis, inshallah.
"وَلَنَبْلُوَنَّكُم بِشَيْءٍ مِّنَ الْخَوْفِ وَالْجُوعِ وَنَقْصٍ مِّنَ الْأَمْوَالِ وَالْأَنفُسِ وَالثَّمَرَاتِ ۗ وَبَشِّرِ الصَّابِرِينَ"
Surah Al-Baqarh
EZ Hajj Groups Management